Regular price
Sale price
$60.00 USD
Unit price
per
Sale
Sold out
A new practical guide for the role of a Product Owner with all the tools and practices needed to be successful working within a Scrum Team. 

Perfect for new Product Owners and Scrum Masters who want to help their Product Owners grow! 
About the guide
This is a unique guide that will give you a clear development plan for the Product Owner role alongside easy-to-use tools to define, develop, and deliver products your customers love.
The information in this guide is based not only on my experience as a Scrum Master working with Product Owners in organizations of various sizes but also as a Product Owner of my own business. 

This guide comes in a bundle with other relevant product workshops to support your learnings and help you teach your team.
The content in the guide is brand new and hasn't been shared in any other products before.
Audience
This ultimate guide is aimed at Product Owners who need actionable guidance on how to set up their practice and organize their work within a Scrum Team as well as Scrum Masters who need help supporting their Product Owners.
What's in the guide
The guide is FULLY COMPLETED and covers the most essential parts of the role.
a

 

development plan for Product Owners.
self-assessment tools

 

to help you identify improvement areas in your practice.
clear guidance and

 

actionable plan on how to build skills and knowledge

 

for success.
a unique never shared before guide to kicking off a new product from scratch.
a

 

printable workbook

 

with all of the exercises and tools.
Why use this tool?
This guide is a great addition to your professional toolbox whether you are a Scrum Master or a Product Owner.
It gives you a strong foundation for your work with tools that will be useful to you in your career long term. It covers not only the role of the Product Owner but also practical product development activities and practices that you can use on a daily basis with any team.
It's actionable. It's based on real-life Scrum Master and Product Owner experiences. It has worked for me, so it can work for you too!
No fluff. No BS. All secrets unveiled.
What's in the guide
The guide covers the most important topics and questions with a clear action plan you can implement:
Product versus Project. In this chapter, you will understand the key element of product ownership and what separates it from traditional project management. 

The ideal Product Owner. In this chapter, you will create a development plan for yourself or your Product Owner and work on actionable steps to build strong product ownership practices.
Product Owner's powers & accountability. In this chapter, you will clearly define the role of the Product Owner on the organizational level and create alignment with your stakeholders.
Product definition: What's your Product?

 

In this chapter, you will define your product vision and goals, you will identify your customers, and visualize your customer journey.
Product Backlog. In this chapter, you will create and organize your Product Backlog and link it back to your product vision, goals, and customer journey. 
Measuring success: Value metrics. In this chapter, you will identify Key Performance Indicators for your product that will allow you to track progress toward goals.
Planning delivery.

 

In this chapter, you will use Agile estimation techniques to forecast delivery and create roadmaps. 
Stakeholder management.

 

In this chapter, you will learn to collect feedback from your stakeholders and set the right expectations around goals.
Product Owner Self-Assessment.

 

This is a great tool to find areas of improvement.
In every chapter, you are sure to get what you need the most:
Actionable insights that I've gathered over the years. I share some tips that can make your Scrum Master's life easier. I learned them the hard way, but you don't have to.
Real-life examples that are not just hypothetical, but actually based on what I did myself.
...BUT WAIT, THERE'S MORE...
I am also adding a workbook of all of the tools and practices that you can print for more focused writing and Miro templates will be coming soon.
What will you get in the package
Guide

 

downloadable PDF (150+ pages of content).

Two printable

 

workbooks

 

- downloadable PDF.
Miro templates for the team exercises.
Share
View full details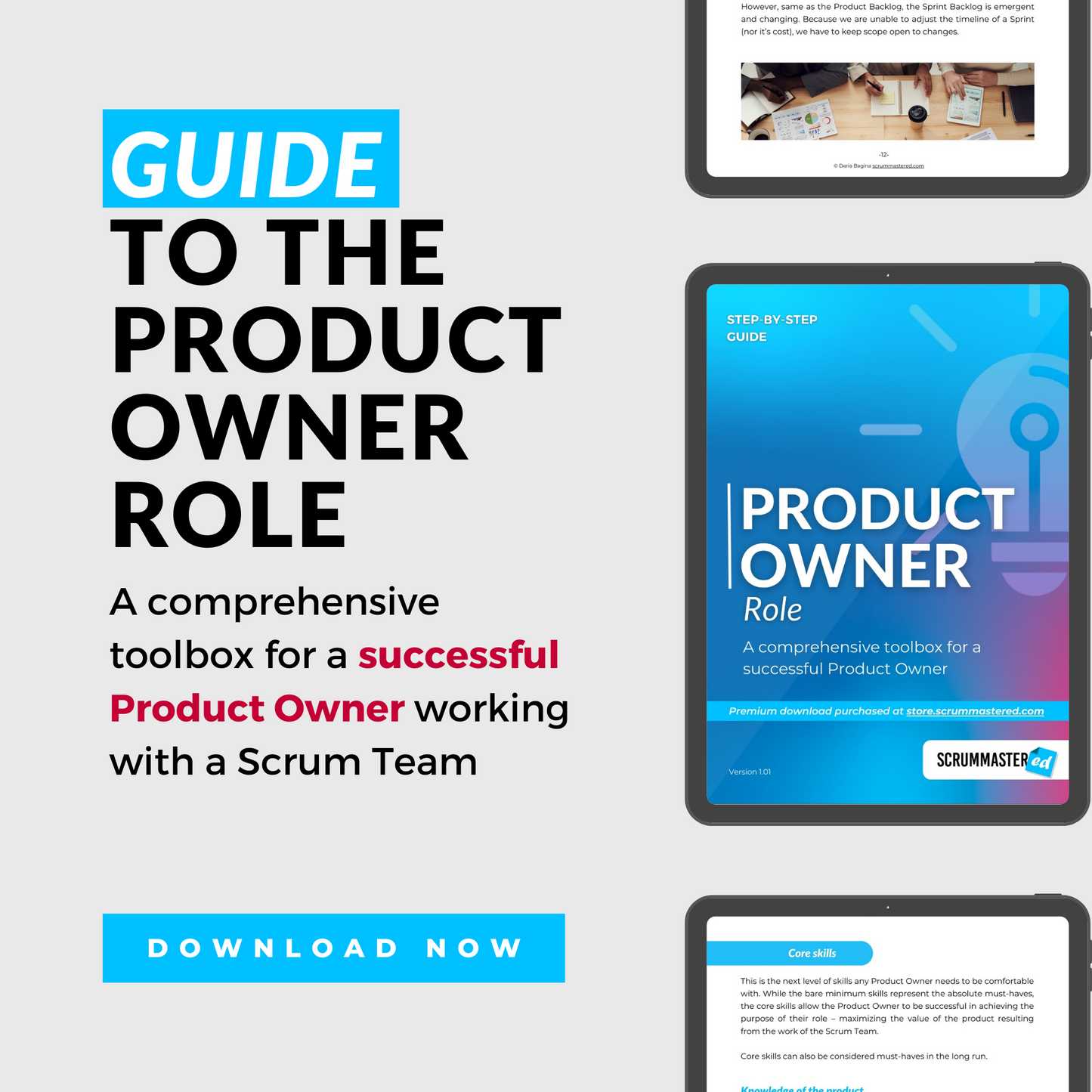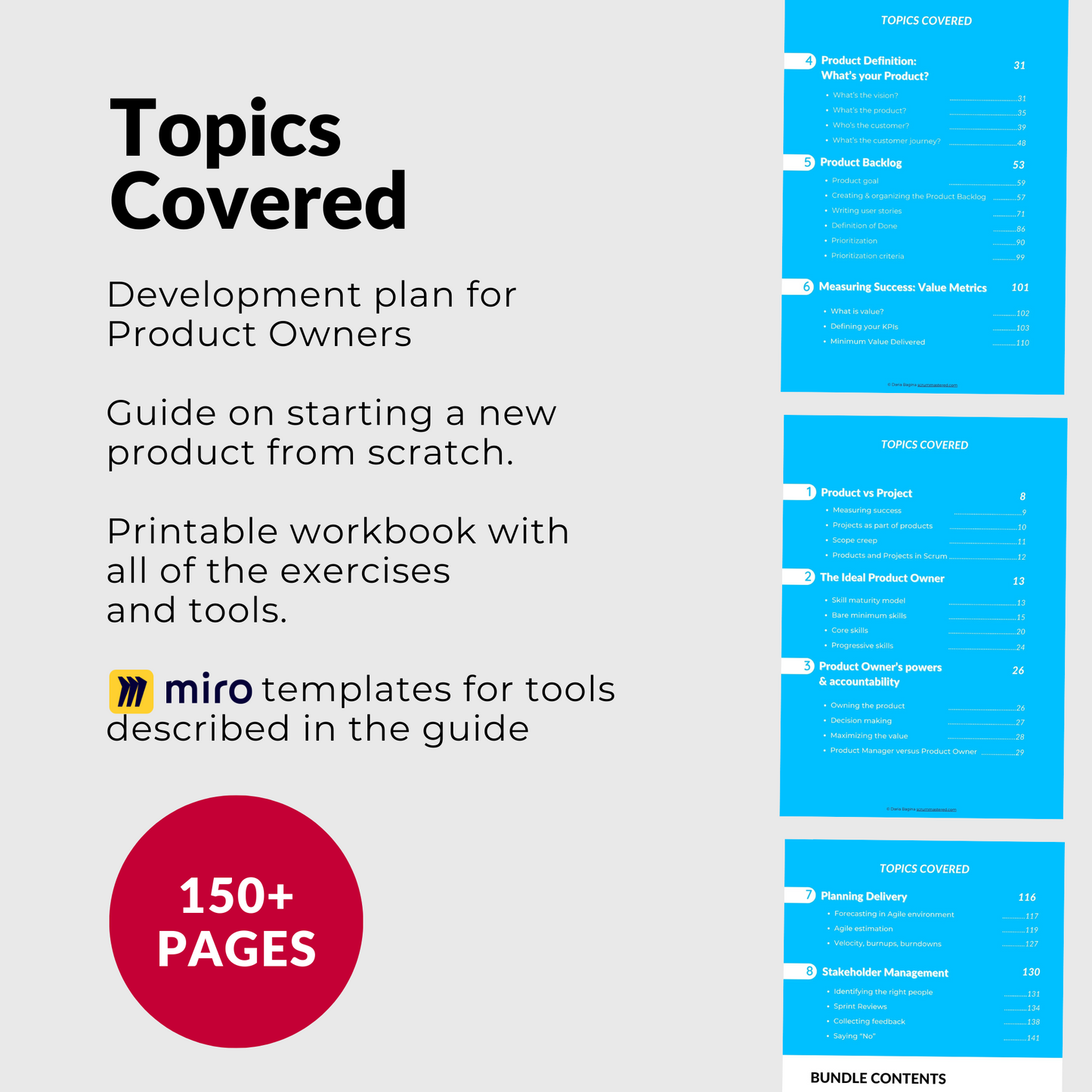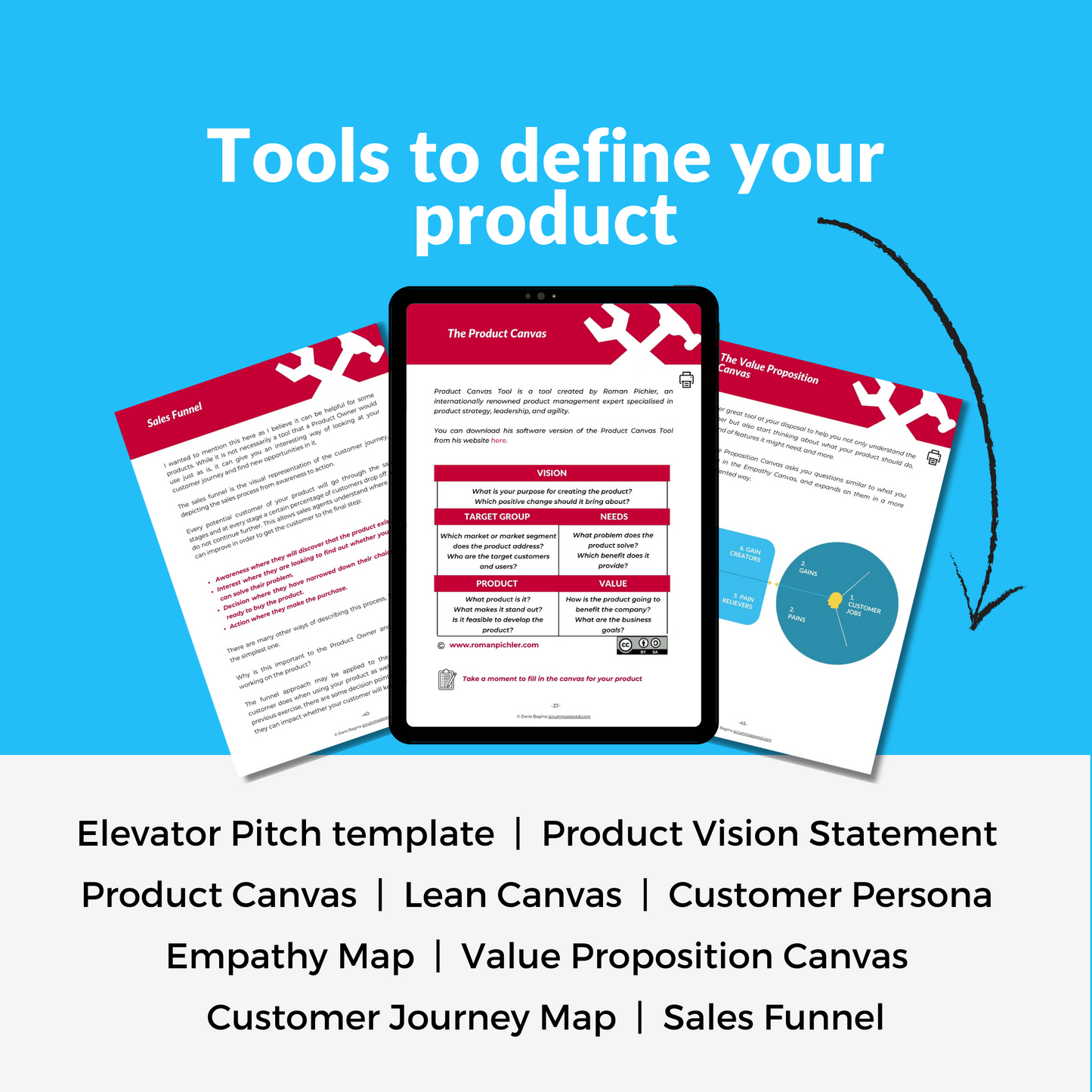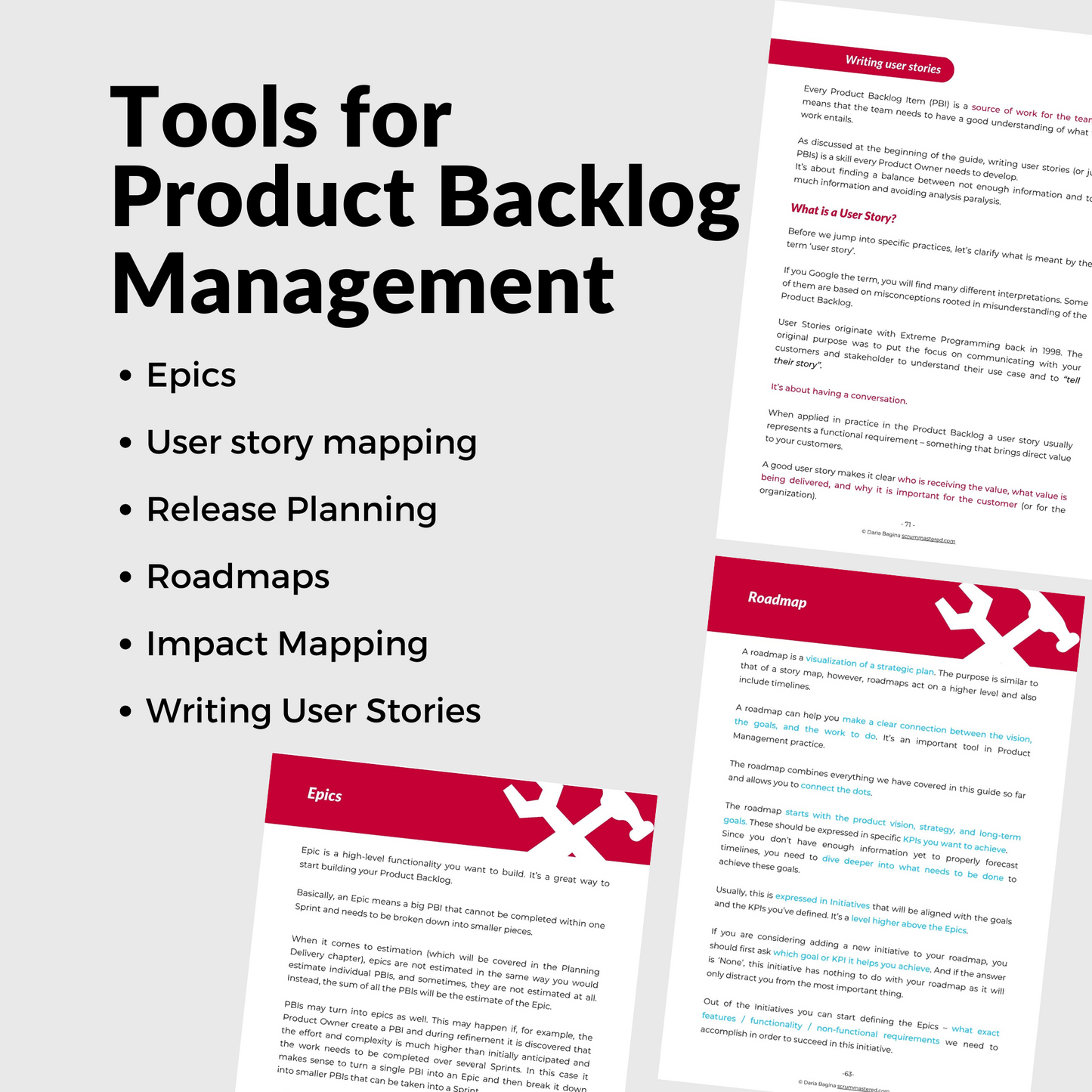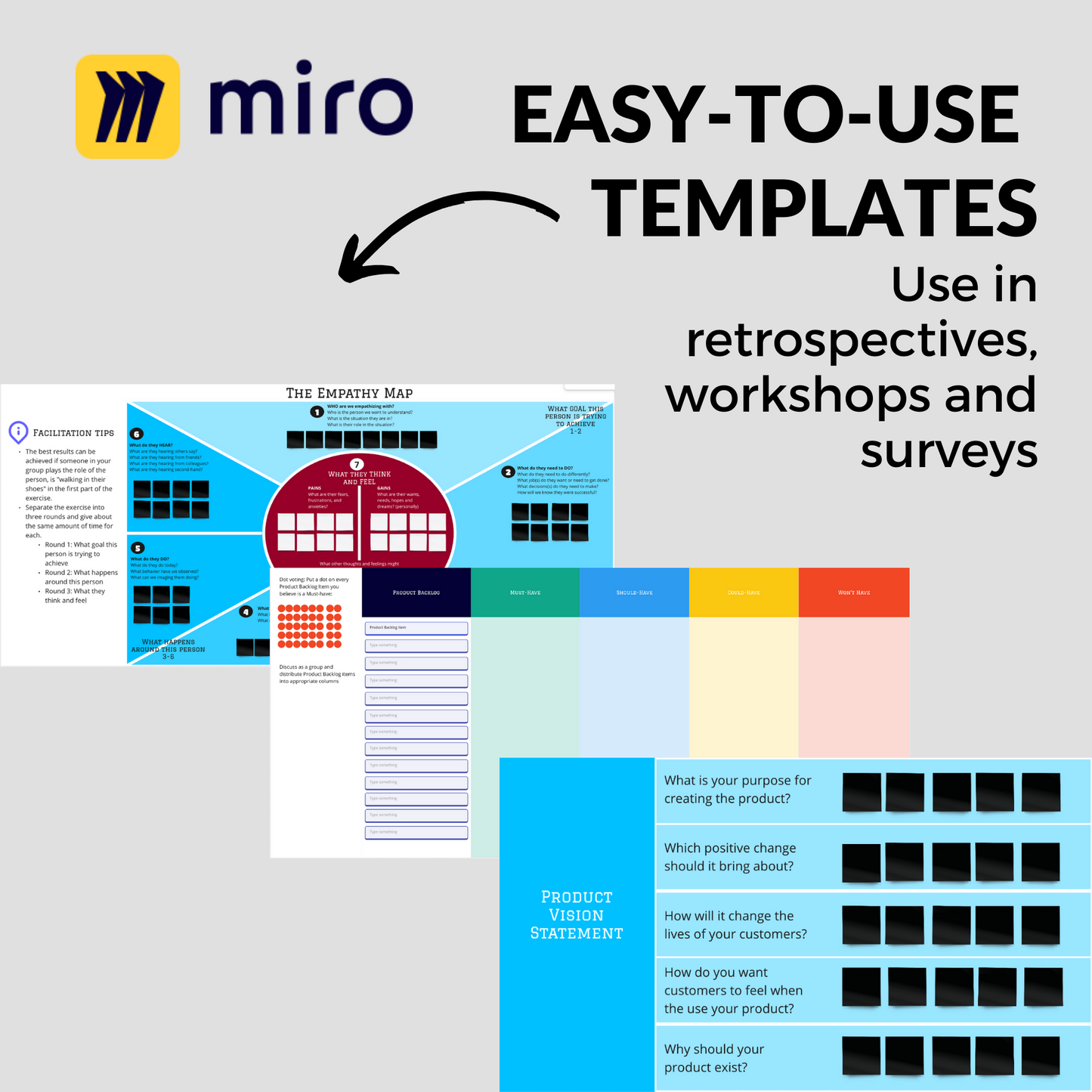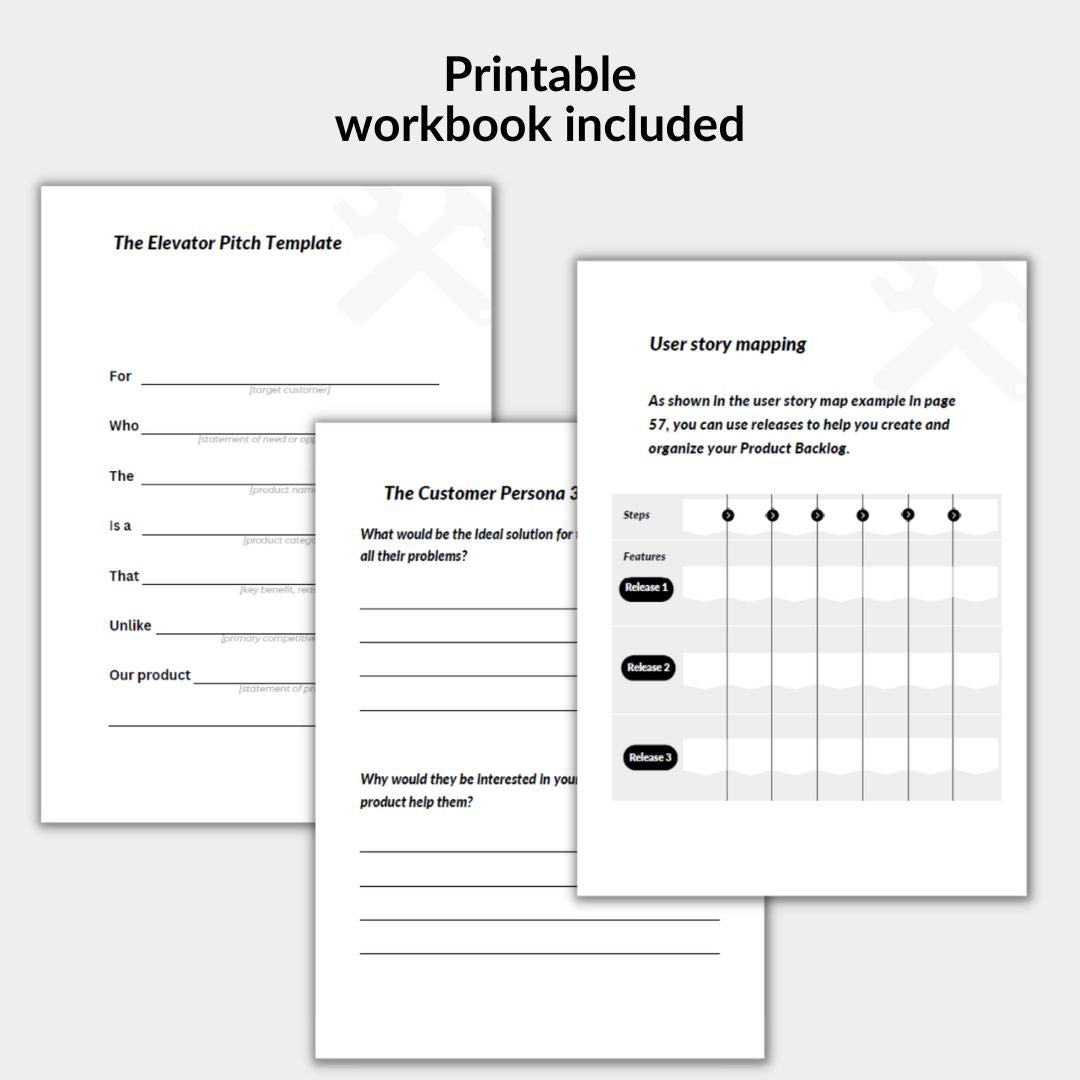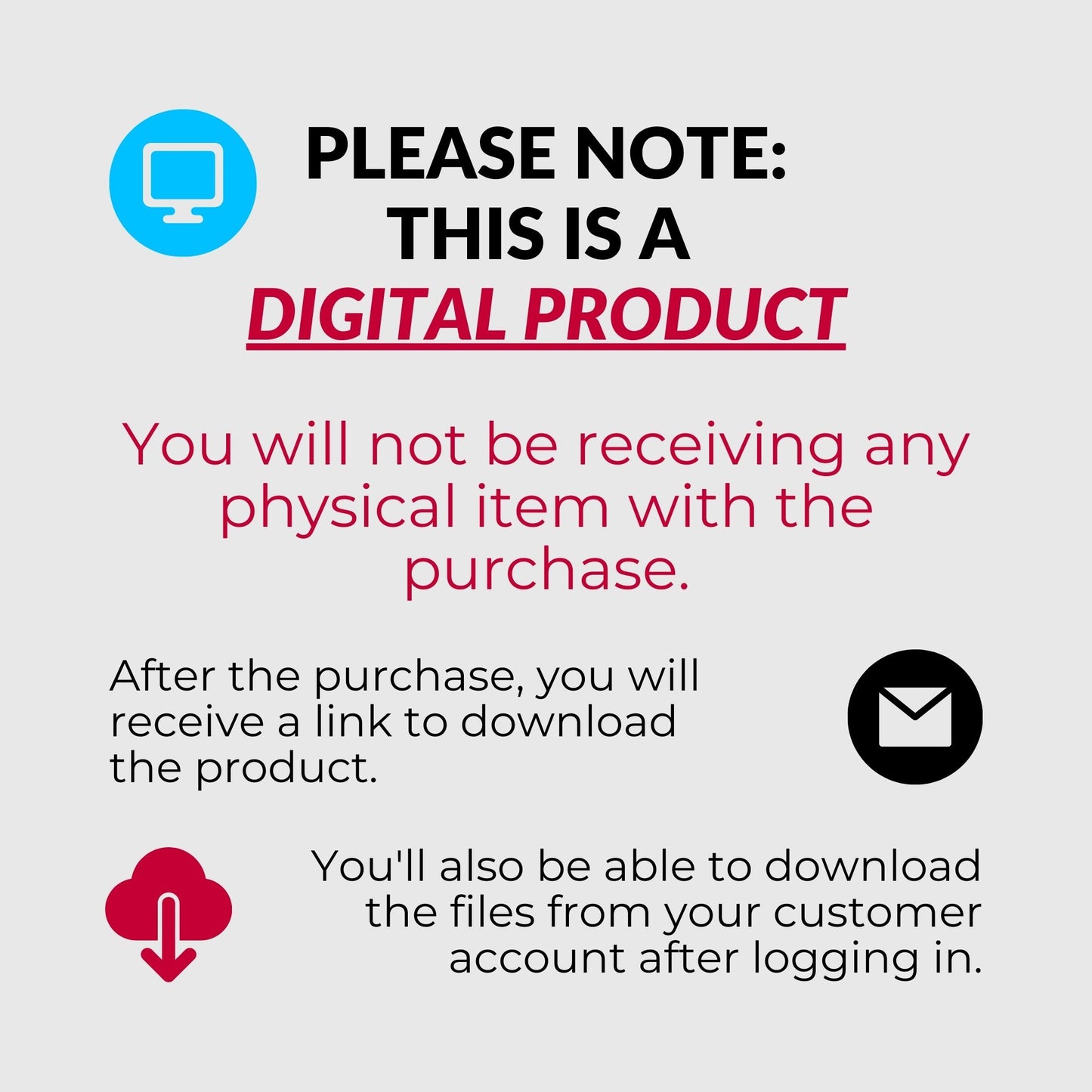 Immediate Download

Get your guides and templates immediately after completing the purchase. Download the files - and you are ready to go!

Always up-to-date

Buy the guide or template once and receive all future updates of this product automatically. Even if the price increases, you don't pay a peny for updates.