Regular price
Sale price
$52.00 USD
Unit price
per
Sale
Sold out
If Scrum was reduced to just one concept it would be to deliver a Done Increment every Sprint. "Done" is the most important concept in Scrum, however, it is not given enough credit and attention in the organization.
In this ultimate guide to Definition of Done, I give you all the tools and knowledge you need to get to 'Done'.
Who is it for
This comprehensive guide is aimed at Scrum Masters who need guidance on how to teach others about the importance of a Done Increment and help their teams create a Definition of Done.
This is also a great guide for Scrum Teams who want to elevate their product quality and need guidance in doing so.
What's in the guide
An in-depth overview of the concept of "Done" as well as the Definition of Done.
Review of complementary practices and how to use them properly (such as acceptance criteria or definition of ready).
A set of exercises with templates to use in workshops and even management discussions.
An example workshop flow.
Why use this tool?
This guide is a great addition to your Scrum Master's toolbox.
It gives you higher knowledge on this topic and provides you with actionable tools. This is not just a book.
It's actionable. It's based on real-life Scrum Master experience. It has worked for me, so it can work for you too!
No fluff. No BS. All secrets unveiled.
What's in the guide
The Definition of Done ultimate guide covers the most important topics and questions with a clear action plan you can implement:
The Importance of "Done". In this chapter, you will learn how the concept of getting to Done every Sprint is applied to real product work. You will see examples of what usable, working, and potentially releasable mean. You will also learn to measure progress in an agile way contrary to the traditional way.
Definition of Done: Myths & Practices. In this chapter, you will learn how to use the acceptance criteria in your Product Backlog. You will also get plenty of examples of technical debt with actionable plan on how to reduce it. You will also learn how to create and implement a team Definition of Done and definition of ready.
Workshop exercises & flow. You will learn practical exercises that will help you teach others all they need to know about DONE, with step-by-step instructions and templates.
In every chapter, you are sure to get what you need the most:
Actionable insights that I've gathered over the years. I share some tips that can make your Scrum Master's life easier. I learned them the hard way, but you don't have to.
Real-life examples that are not just hypothetical, but actually based on what I did myself as a Scrum Master.
What will you get in the package
The guide downloadable PDF (~40+ pages of content)
Miro template that you can simply copy and paste to run your own workshop.
Editable example of a workshop flow in PPT (in case you can't use Miro).
Bundle Offer
This guide is part of The Essentials Bundle. Save 20% when buying a bundle of products!
Share
View full details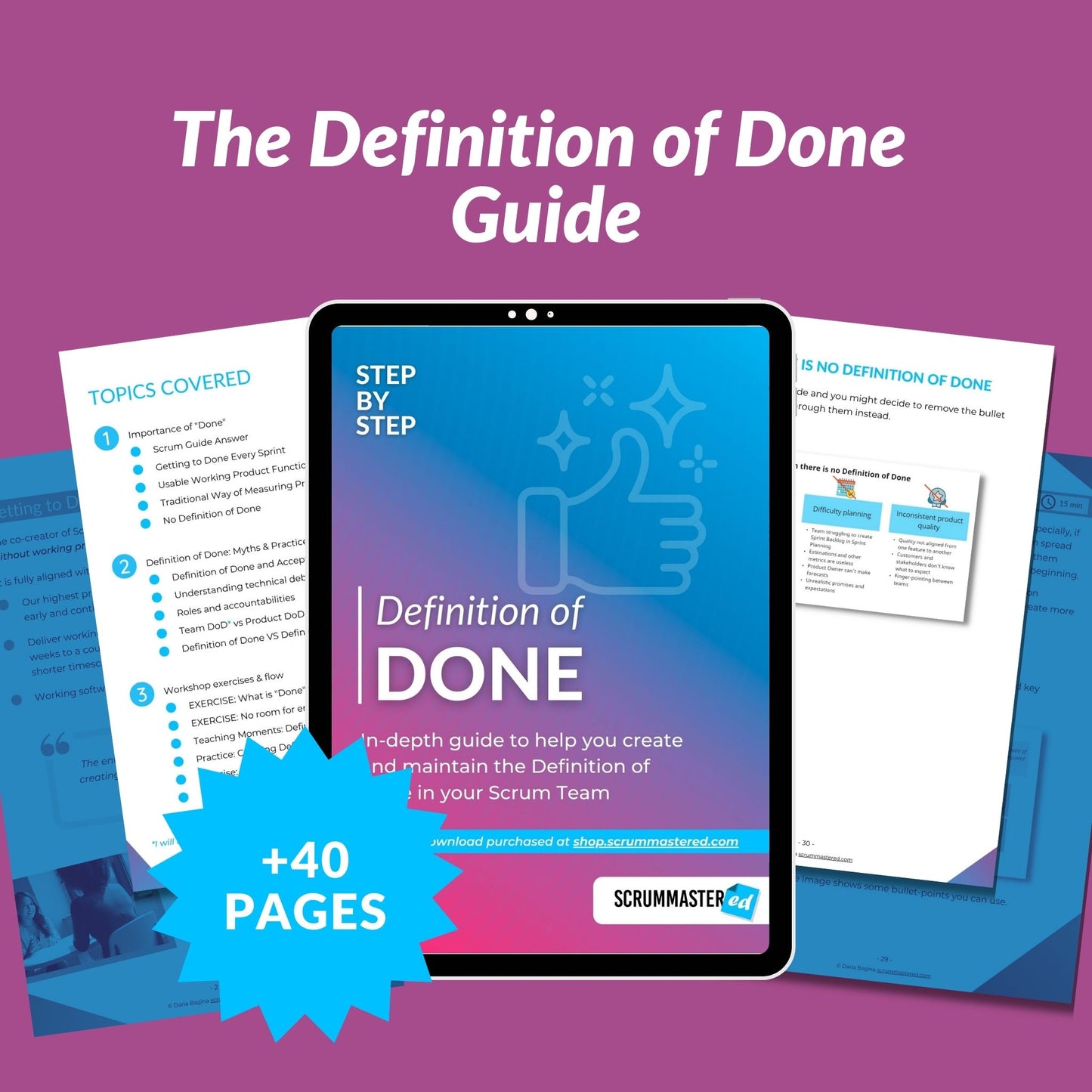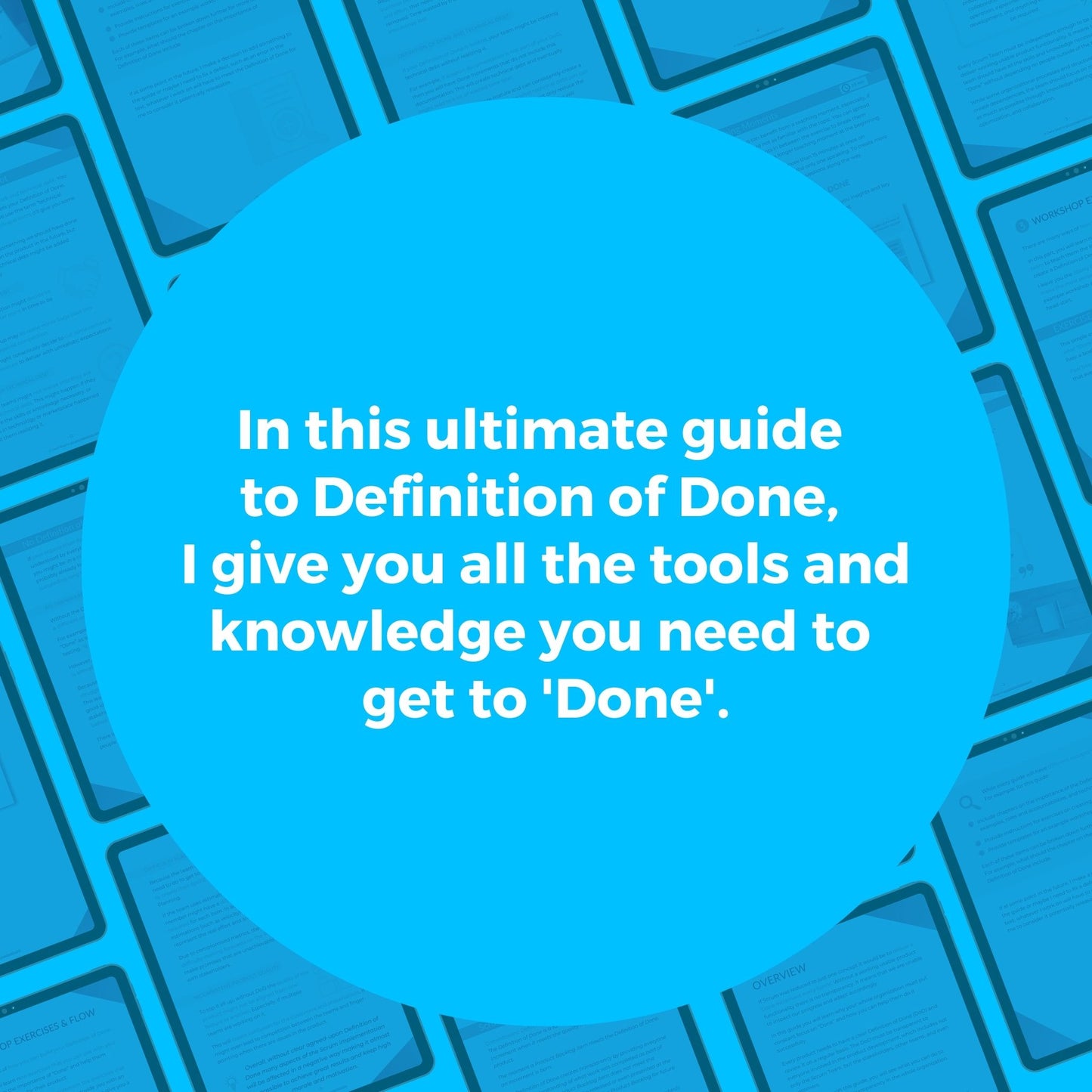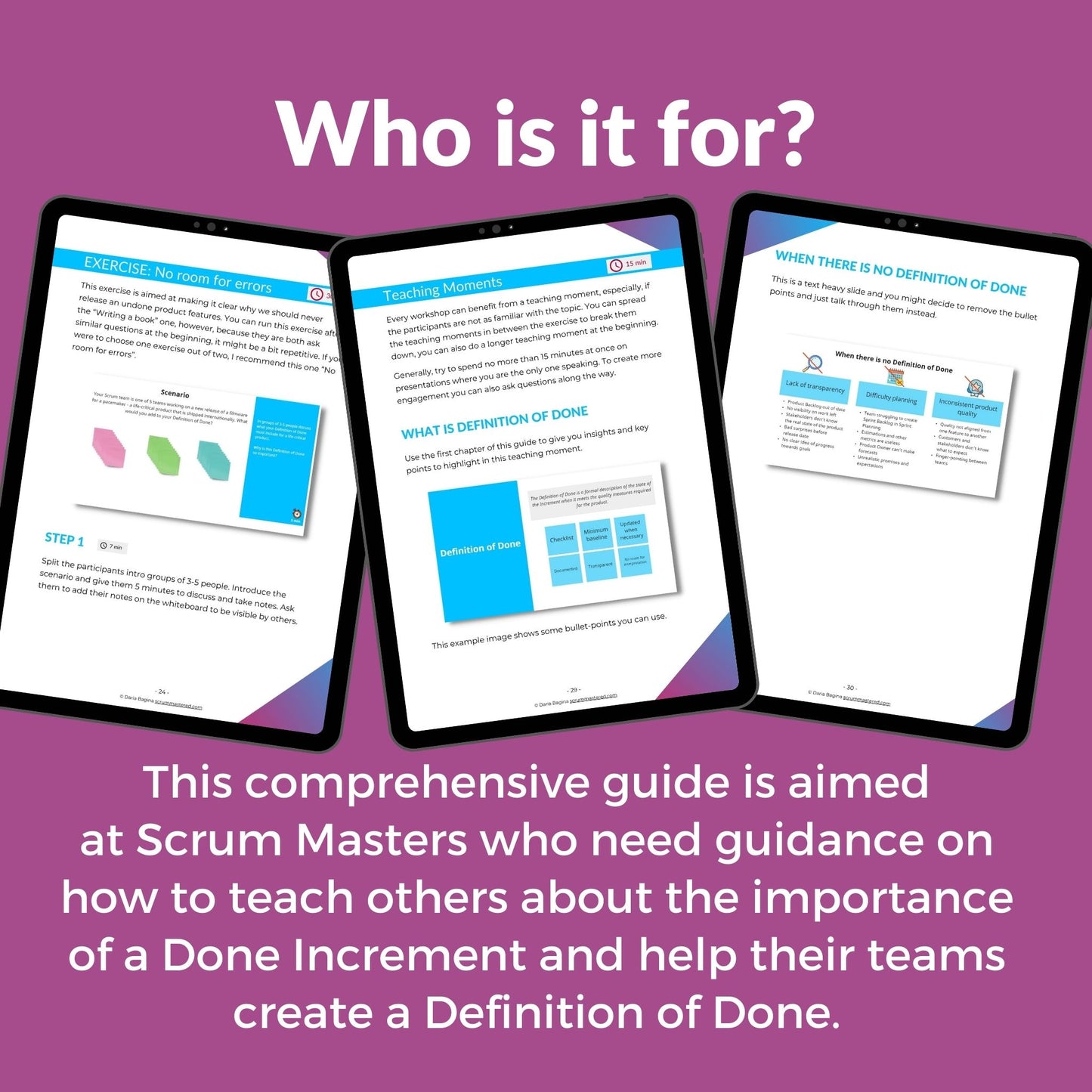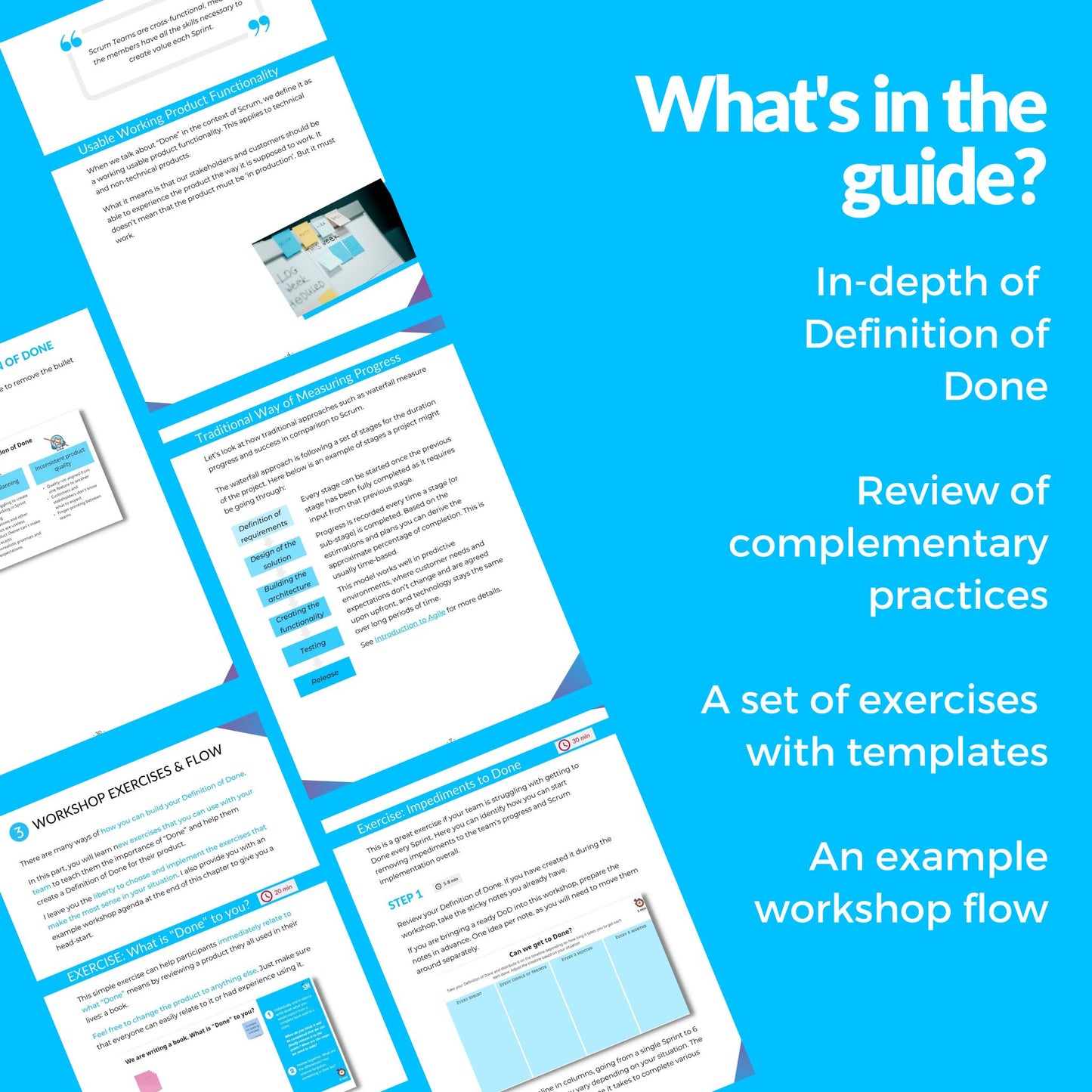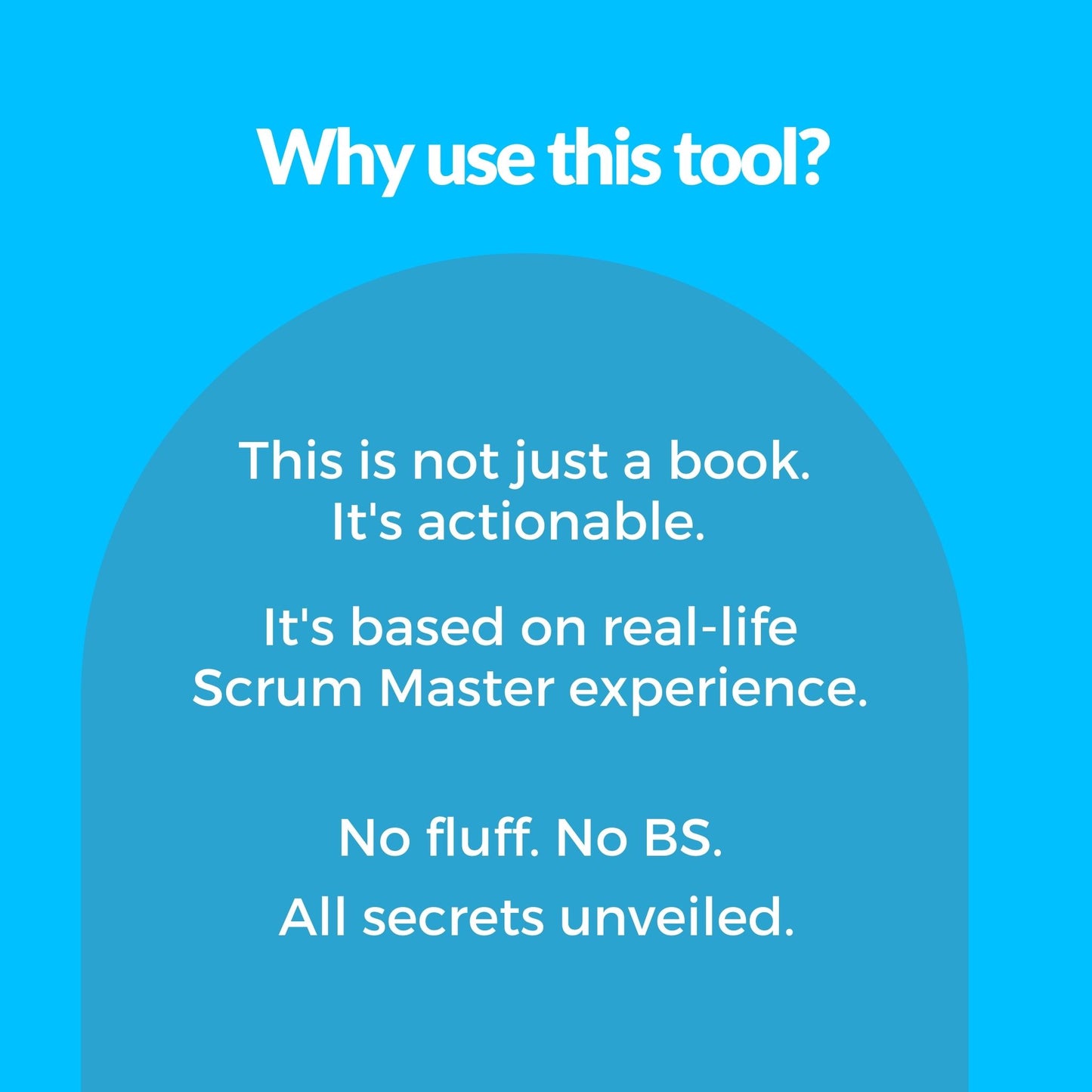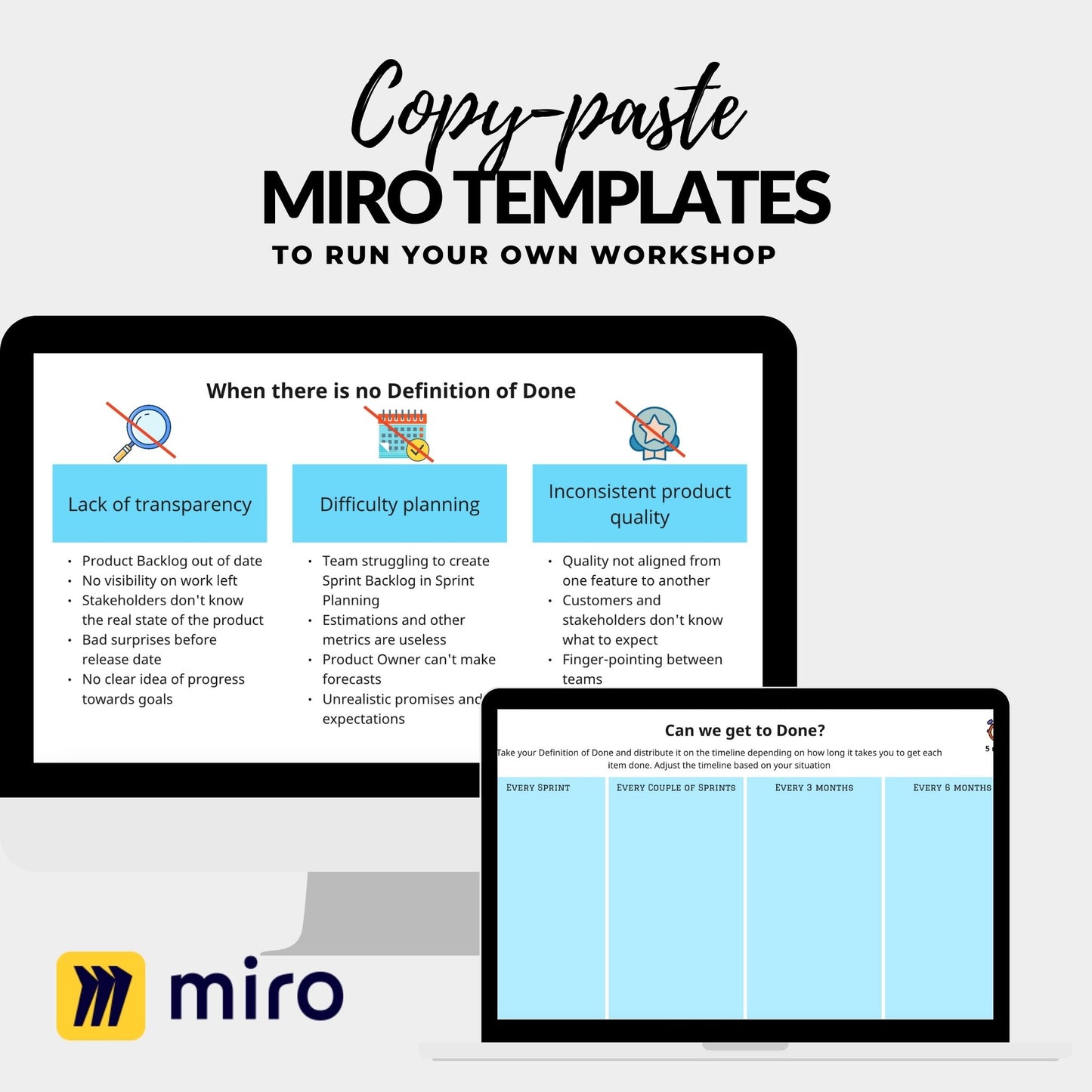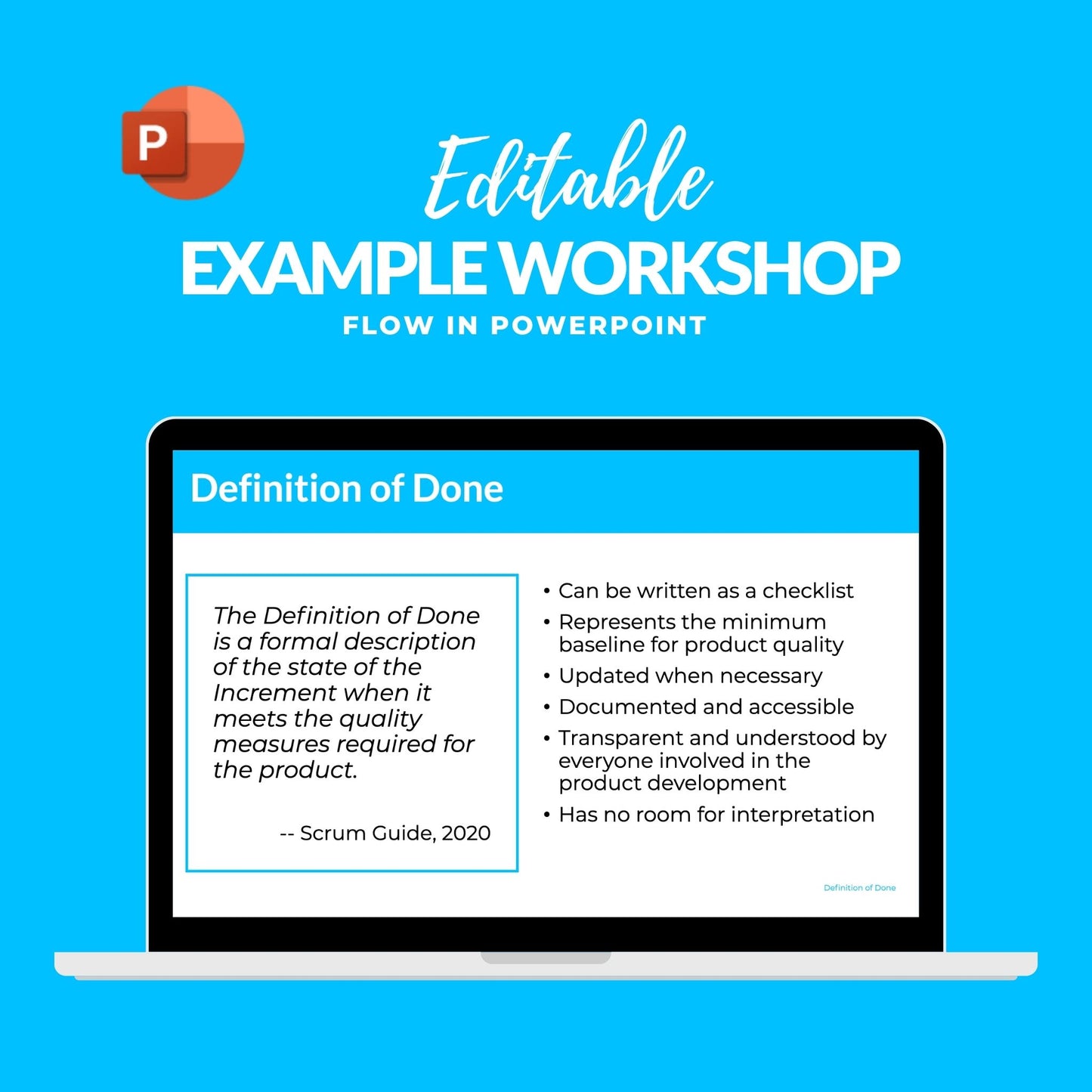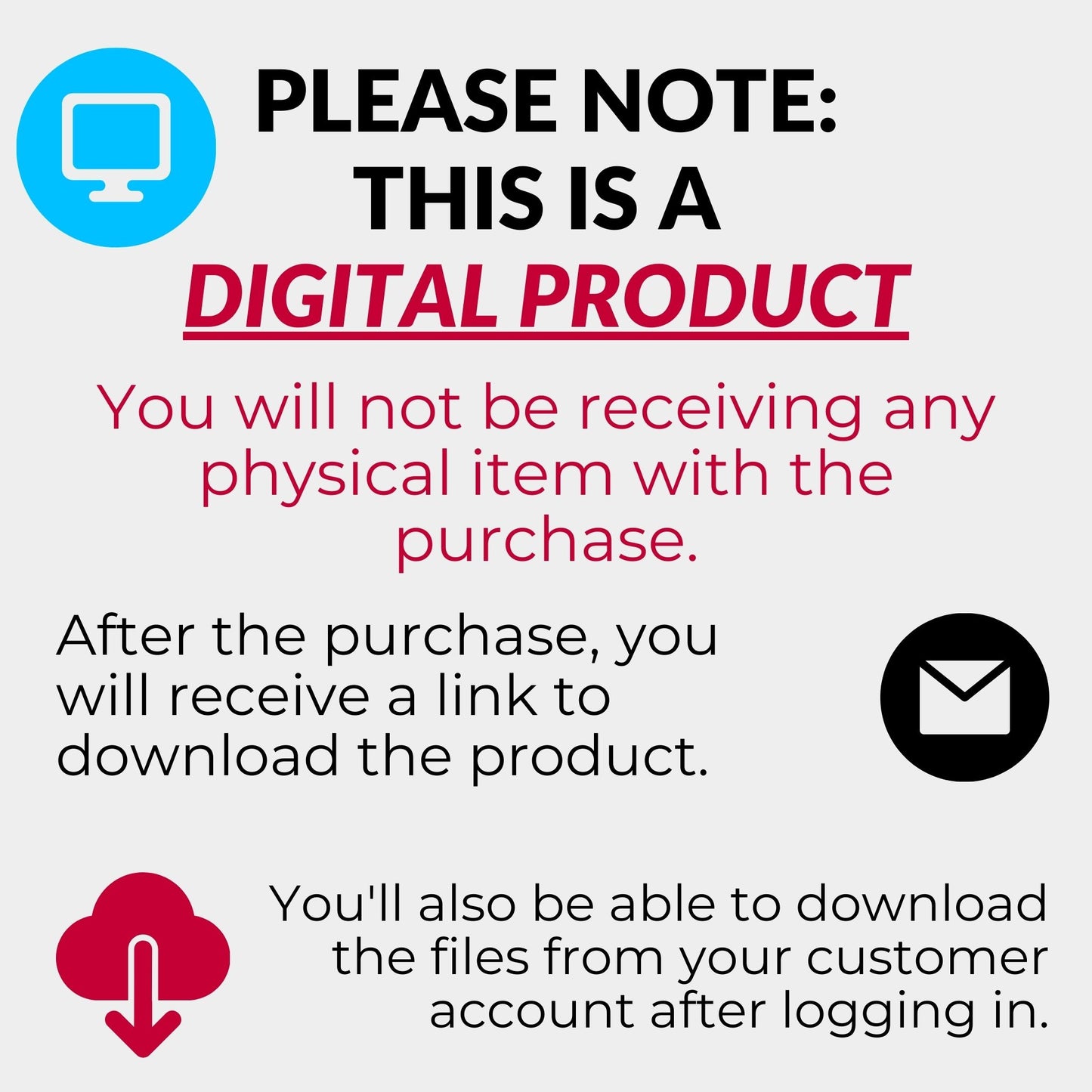 Immediate Download

Get your guides and templates immediately after completing the purchase. Download the files - and you are ready to go!

Always up-to-date

Buy the guide or template once and receive all future updates of this product automatically. Even if the price increases, you don't pay a peny for updates.